Judges
Larry Adkison, Allbreed
Darrell Newkirk, Allbreed
Cathy Dinesen, Allbreed
Jim Dinesen, Allbreed
Rachel Anger, Allbreed
Jeff Janzen, Allbreed

Entry Clerk
Nancy Forrest
tigerslairentryclerk@yahoo.com
513 N. Fairgrounds Rd.
Sturgeon, MO 65284
Phone: 573-239-7970
confirm your entries
FREE half cage is included with the third entry
Entry Fees
1st Entry (includes catalog) $55
2nd Entry (same owner) $50
3rd Entry (same owner) $45
Each Additional Entry $35
Miscellaneous Entry $30
fees include CFA surcharges
Sales Cage (2 openings) $30
Grooming Space (2 openings) $30
Extra 1/2 Cage (1 opening) $25
Substitution Fee (each) $5
End of Row (not disabled) $10 *
* No fee for disabled; please note that disabled
exhibitors will receive priority for end of row requests
Closing Date
October 28, 2014 @ 12 midnight or when show fills with 225 entries; whichever is first.
Show Manager
Susan Norbury
moose63053@yahoo.com
Ph: 660-537-1745
Co-Show Manager/Vendor Contact
Christina Crane
christinacrane63@gmail.com
Ph: 573-864-6806











ACTIVITIES

We will be hosting a "SPOOKTACULAR" HALLOWEEN COSTUME CONTEST for the CATS! Dress your little one in his/her favorite costume and enjoy the fun! Great prizes will be awarded by our contest judging team, "Count and Countess Dinesen", for 1st, 2nd and 3rd places!

We are also planning to host Dr. Leslie Lyons and her team of students from the University of Missouri College of Veterinary Medicine! Her research focuses on genetic aspects of domestic cats, including inherited diseases, traits, and population dynamics, which are applied to genetic disease studies, translational medicine, genetic testing, and forensic applications.

We will be hosting the first annual Gail Rothman Food Drive. Our beloved Gail was the definition of a cat fancier and she bred Himalayans. She worked tirelessly behind the scenes to bring shows to fruition and she was the former president of Tiger's Lair. She was a loving and devoted friend, and she made a mean veggie pizza! Please remember to bring your feline food items, which will be donated to the Mid-Missouri Humane Society and other shelters in Sedalia.

Additional activities include exciting door prizes (1 each hour between 10 a.m. and 3 p.m.), a fabulous raffle with items you will not to leave without, and LOTS of vendors, so don't forget your wallets! We are hoping a SPECIAL GUEST will arrive, so don't forget to bring your camera! He may not want to leave his lasagna (Hint! Hint!), but we sure hope this mystery guest makes it to the show!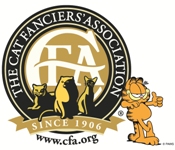 ENTRY INFORMATION: Although the entry clerk will make reasonable attempts to provide exhibitors with entry confirmation, it is ultimately the responsibility of all exhibitors to confirm receipt of entries with the entry clerk. The entry clerk and Tiger's Lair are not responsible for entries NOT received due to communication error(s). Entries submitted by fax or phone will not be accepted. Per show rule 11.08a, all entries must be accompanied by all entry fees. Online entries must be paid in full within ten (10) days of the entry clerk's receipt of the entry or prior to the start of the show, whichever comes first. Make checks payable to Tiger's Lair and mail to the entry clerk noted. PayPal payments are also accepted and may be sent to tigerslairentryclerk@yahoo.com. Please insert a comment to note the show and your entry details. Odd numbered entries with any size security cage must purchase a double cage space. All championship, premiership and kitten entries with registration numbers or temporary registration numbers will be scored for CFA Regional and National points. Owners of novices may contact the entry clerk for a temporary registration number(s).
SHOW HOURS: Check-in hours are 7:30 a.m. through 8:30 a.m. Judging will begin at 9 a.m. The advertised show hours will be 9 a.m. through 4 p.m. The closest airports are Columbia Regional Airport located in Columbia, Missouri or Kansas City International Airport in Kansas City, Missouri.
SHOW HALL: The Mathewson Exhibitions Center is located on the property of the Missouri State Fairgrounds, 2503 West 16th Street in Sedalia, MO 65301. The emergency contact numbers for the show hall are 660-530-5600 & 660-530-5604. A map of the show hall and directions are included at the bottom of this flier. The show hall plenty of restrooms, is heated and cooled, and is handicap accessible. A concessionaire will be on location for breakfast and lunch sales (biscuits & gravy, breakfast sandwiches, hamburgers, hot dogs, and subs). Smoking is not permitted in the show hall.
LODGING: The official show hotel is Hotel Bothwell 103 East 4th Street, Sedalia, MO 65301 PH: 660-826-5588. Rates are very reasonable and vary depending on the type of room selected. To make a reservation, you need to call the hotel and request the "CATSHOW" rate, as it will not work for online bookings. If you encounter a problem, you may contact the Show Manager. Additional hotels are linked below. RV/Camping facilities are available on the property of the Missouri State Fairgrounds for $19 per night with utilities for $10 per night without utilities. For additional information regarding the camping facilities, please visit the Missouri State Fairgrounds website at http://www.mostatefair.com/public-campground.
RULES: It is advised that all entries be tested for FELV, and receive inoculations by a licensed veterinarian against Panleukopenia, Rhinotracheitis, Calici Virus, and Rabies before entering. Claws of all four feet must be trimmed prior to benching. No declawed cats may enter this show. All cats must be free of fleas, fungus, ear mites, and any contagious illness. Show Management reserves the right to cause the removal of any cat from the show all for any of the reason(s) noted above until a licensed veterinarian can complete a proper examination of the cat at the exhibitor's expense. This show will be conducted under current CFA rules, a copy of which may be obtained by submitting a fee in the amount of $7 to the CFA, Inc., 260 East Main Street, Alliance, OH 44601.
SALES CAGES: There will be a limit of one double sales cage per exhibitor. To have a sales cage, you must have at least one CFA registered entry in the show. Kittens must be at least four months in age. CFA litter registrations will be required by show management. There is a maximum of two kittens or one cat per single cage. All animals for sale must be in a cage. NO CATS OR KITTENS WILL BE ALLOWED IN CARRIERS UNDER THE BENCHING TABLES.
CAGES: A single cage measures 21" x 21" x 21". A double cage measures 21" x 21" x 42". Exhibitors are required to bring their own litter pans and cat food. Litter will be provided.
LIABILITY: Tiger's Lair Feline Fanciers Cat Club, a Missouri non-profit corporation, will take reasonable care to safeguard the property of all exhibitors at the show. Neither Tiger's Lair Feline Fanciers Cat Club nor the Missouri State Fairgrounds will be liable for any loss or damage to an exhibitor's property or cats. Service Guards will not be available Friday, October 31 or Saturday, November 1. All property and cats must be removed from the show hall following completion of the last ring final.



Show Flyer (PDF)
Directions & Hotel Info (PDF)
Directions - Google Maps


Back to