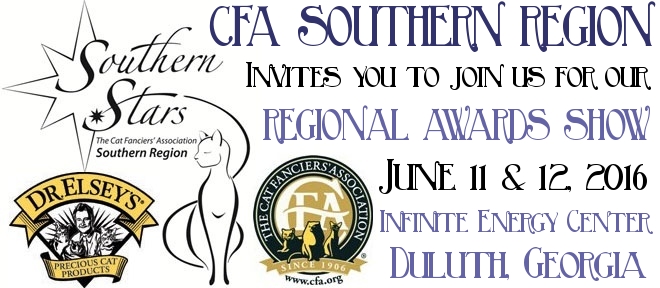 Judging Saturday
Melanie Morgan Stevens - Allbreed/HHP
Bob Goltzer - Allbreed/HHP
Sharon McKeehen-Bounds - Allbreed/HHP
Don Williams - Specialty/HHP

Judging Sunday
JoAnn Miksa-Blackwell - Allbreed/HHP
Jacqui Bennett - Allbreed/HHP
Ken Currle - Allbreed/HHP
Teresa Keiger - Specialty/HHP

Entry Clerk
Shirley Peet
meloncali@comcast.net
Email to confirm entries
415 Shore Drive
Joppa, MD 21085
Phone/Fax: 410-679-1873
No calls after 10 pm EST

Show Manager
Joanne Hardeman
joannehardeman@bellsouth.net
Phone: 770-977-9015
Vendor Coordinator
Lisa Highlan
lisahighlan@gmail.com
Phone: 678-859-8502

FREE Extra 1/2 Cage with 3, 5, or 7 Entries

Entry Fees
1st Entry (includes catalog) $60
2nd Entry (same owner) $55
3rd & Additional Entries (same owner) $50
All fees include CFA/Regional surcharges
Extra 1/2 Cage Space $25
Grooming Space (full space) $30
End-of-Row (no fee for handicap) $15

Closing Date
Monday June 6, 2016 @ 6pm or when
the show fills at the 225 cat entry limit.
Show Hall
Infinite Energy Center
(Formerly Gwinnett Center)
6400 Sugarloaf Parkway
Duluth, GA 30097

CFA Clerking School
This is a great way to learn about scoring and placements even if you don't plan to clerk. Friday, June 10, 2016 at the La Quinta Inn Duluth. Cost is $45 (includes materials and lunch.) Contact Karen Thomas at arkvet2000@yahoo.com or kvet@bellsouth.net to sign up or for additional information.


Breed Summary as of 11 am 6/6/16



Entry Info: All entries must be submitted on an official CFA entry form. Please confirm all entries with the entry clerk. Per CFA Rules payments for on-line, faxed, or emailed entries must be received within 10 days, or no later than the closing date. Use of ANY size security cage with a single entry requires the purchase of an extra 1/2 cage space. It is the Exhibitors responsibility to check entry confirmation and notify the entry clerk of any errors. Checks or money orders should be made payable to Southern Region (U.S. funds only). Payment at door is CASH ONLY.
Show Hall: The Infinite Energy Center is air-conditioned and has ample free parking. Handicap access allows for rolling carriers into the show hall. This is a NO SMOKING facility. Proof of the Pudding offers great lunches and snacks.
Show Hours: Check-in will be Saturday, June 11 from 7:30 am - 8:30 am. Judging will begin at 9 am both Saturday and Sunday. Advertised show hours for spectators are 10 am – 4 pm both days.
Show Hotels: Holiday Inn Gwinnett Center (on grounds of Gwinnett Center) 6310 Sugarloaf Parkway, Duluth, GA 30097 Phone: 888-269-9585 Ask for SRA (CFA – Southern Region Awards) group rate or book online Link to book online. (Enter check-in/check-out dates; Check Availability.) $99/night; $25 pet fee per room (Rate available until May 27, or until filled).
La Quinta Inn Duluth 2370 Stephens Center Dr, Duluth, GA 30096 Phone: 678-957-0500 is approximately a 1/2 mile from show hall. Call and ask for "Southern Regional Awards Show" group rate. $79/night (Only 15 rooms available at this rate so make your reservation early.) If the group rate is no longer available use CFA discount code CATFAN9.
Airport Info: Hartsfield-Jackson Atlanta International Airport ATL Note: For those arriving by air, there is no shuttle service to/from the airport. The drive from the airport to the hotel is approximately 1 hour, car rental is recommended.
Benching: Cats are not permitted to leave the show hall during posted show hours without the permission of show management. Single cages measure 22" x 22" x 22". Please bring cage curtains, fabric or towels for the top, sides and bottom of your benching cage. Litter will be provided. Please bring cat food/water bowls and litter pans.
Scoring: All entries in Championship (except Novice), Premiership (except Novice), registered Kittens, recorded Household Pets, and registered cats competing as Household Pets with an Household Pet color class prefix will be scored for CFA awards. Owners of novices can contact the entry clerk for a temporary registration number. Kittens may be entered without registration numbers, but will not be scored for CFA awards if a number is not provided at show time. Kittens without a registration number or TRN will not be included in the count.
*Show rule 2.19E The MISCELLANEOUS (Non-Competitive) CLASS is for any registered cat or registered kitten of a breed not accepted for Provisional Breed competition. Miscellaneous Class entries are examined by judges; however, no awards will be made in this class. All Bengal championship, premiership and kitten entries can enter under a TRN, but all Bengals in the show hall must be registerable, (5 generation pedigree with no wild blood).
Health & Sales: It is strongly advised that all cats or kittens entered or present in the show hall be inoculated before entry by a licensed veterinarian against feline panleukopenia (formerly known as feline distemper or feline infectious enteritis), feline rhinotracheitis, Calicivirus and rabies. It is also strongly recommended that cats and kittens be tested and found negative for FeLV before entry. All cats/kittens must have all claws clipped prior to benching. Declawed cats are not eligible for competition. No kittens under four (4) months of age will be permitted in the show hall.
CFA Show Rules: A copy of the current CFA show rules may be obtained by sending $7 to: CFA 260 East Main St. Alliance, OH 44601 or online at www.cfa.org
Liability: The Cat Fanciers' Association, Southern Region or the Infinite Energy Center will not be responsible for damage, loss, or personal injury during this event.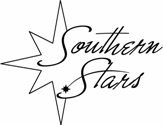 Show Flyer (PDF)
Link for Directions
Banquet & Award Info