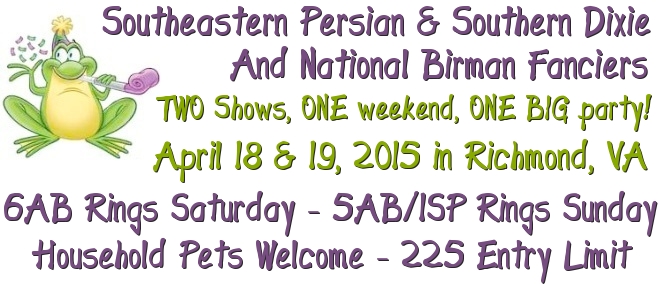 This is our end of season celebration show and potluck party!
Bring your appetite & bring your own special recipe to share at our party table.
SATURDAY SHOW JUDGES
John Colilla (Allbreed)
Bob Goltzer (Allbreed)
Tracy Petty (Allbreed)
Gary Powell (Allbreed)
Sharon Roy (Allbreed)
Jan Stevens (Allbreed)

SUNDAY SHOW JUDGES
Carla Bizzell (Allbreed)
Ken Currle (Allbreed)
Teresa Keiger (Allbreed)
Brenda Neukircher (Allbreed) (guest)
Jeri Zottoli (Allbreed)
Jacqui Bennett (Specialty)
ENTRY CLERK FOR BOTH SHOWS
Shirley Peet
meloncali@comcast.net
415 Shore Dr. Joppa, MD 21085
Phone/Fax 410-679-1873
CLOSING DATE
Tuesday 4/14/15 @ 6 pm EST or
when both shows fill with 225 cats

SHOW MANAGER (SEP-S Dixie)
Laurie Coughlan
lecoughlan@aol.com
Phone: 410-825-9824
SHOW MANAGER (NBF)
Jan Rogers
birjanji@embarqmail.com
Phone: 682-597-7910

VENDOR CONTACT
Jan Rogers birjanji@embarqmail.com Phone: 682-597-7910

ENTRY FEES
1st Entry (includes catalog) $51
2nd Entry (same owner) $45
3rd Entry (same owner) $40
4th & Each Additional Entry $30
Extra 1/2 Cage Space $20
Sales Cage (1/2 space) $20
Grooming Space (full space) $30
End of Row Benching $10*
Returned Check Fee $35
Fees include CFA surcharges

IMPORTANT PAYMENT INFO
Checks for entry fees MUST be written
separately for each show. Checks for
Saturday show should be made out to:
Southern Dixie Cat Club. Checks for
Sunday show to: National Birman Fanciers.
Per show rule 11.08 a.; all entries must be
accompanied by proper entry fees.
Entries sent online/fax must be paid in
full within 10 days of receipt or prior
to the start of the show, whichever is first.





Our guest judge Brenda Neukircher joins us from The Republic of South Africa where she is an Allbreed judge in The Southern Africa Cat Council (SACC).
Entries: It is the exhibitor's responsibility to contact the Entry Clerk to confirm receipt of online or fax entries. The Entry Clerk/Clubs will not be responsible for entries lost due to communication errors. No substitutions accepted after the closing date. No refunds made once your entry is received or for failure to bench. Use of ANY size security cage with a single will require purchase of an extra 1/2 cage space. *End of Row will be waived for handicapped exhibitors. All championship, premiership and kitten entries with registration numbers or temporary registration numbers will be scored for CFA National and Regional points. Owners of novices can contact the entry clerk for a temporary registration number. ALL PAYMENTS AT CHECK-IN MUST BE MADE IN CASH.
Hours: NOTE!! Later start time Saturday (10 am) to give you time to drive in that morning. Saturday check in: 8:30-9:30 am. Sunday check in: 7:30-8:30 am; any cat not benched by end of check in will be marked absent and must inform the clerk in each ring. Judging will begin at 10 am on Saturday and at 9 am on Sunday. Advertised show hours both days 9 am – 3 pm.
Show Hall: Gay Community Center of Richmond 1407 Sherwood Ave. Richmond, VA 23330 PH:804-495-5947. Plenty of free parking. While there is no smoking at the cat show, the facility allows smoking for other events.
Show Hotel: Clarion Hotel Richmond Central 3207 N Blvd. Richmond, VA 23230. Ph: 804-359-9441. $65.00 per room per night with Pet fee waived. Please Mention Cat Show. Use 3207 Hermitage Rd, Richmond VA for GPS directions.
Benching: Single cage size is approximately 22"x22"x22". Please bring cage curtains or fabric to cover top, sides and back of cages. Litter will be provided; please bring food & water bowls and litter pans. Show Management will take all reasonable care to safeguard the personal property of exhibitors, however neither the club nor the hotel will be liable for loss or damage to such property.
Household Pets: All HHPs must be at least 4 months old and may not be declawed; any cat over the age of 8 (eight) months must be neutered or spayed.
Health: All entries should be inoculated against Panleukopenia, Rhinotracheitis and the Calici Viruses, and we recommend they be tested for FeLV prior to entering the show hall. All cats must be free of mites, fleas, fungus and any contagious illnesses. All claws (front and back) must be clipped prior to benching.
Airport Info: (RIC) Richmond International Airport (Byrd Field) is approximately 12 miles/20 minutes from the show hall.
Catalog Ads: Full Page Ad - $40, 1/2 Page Ad - $30, 1/4 Page Ad - $15, Business Card - $5




PDF Show Flyer
Directions to Show Hall

Back to