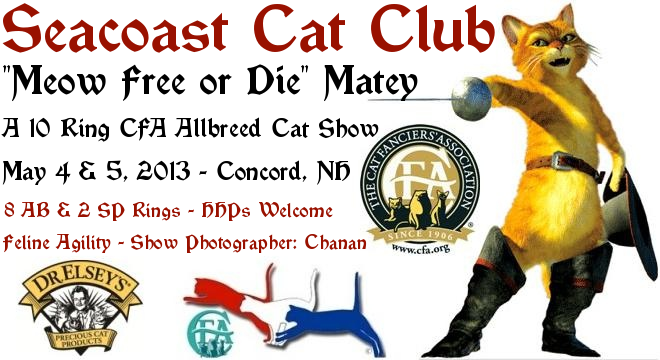 green 86C791
SATURDAY JUDGES
Ellyn Honey - AB & HHP
Lorraine Rivard - AB & HHP
Sharon Roy - AB & HHP
Wayne Trevathan - AB & HHP
Gary Veach - AB & HHP
Anne Mathis - LH/SH SP
SUNDAY JUDGES
Kathy Calhoun - AB & HHP
Russell Webb - AB & HHP
Iris Zinck - AB & HHP
Doreann Nasin - LH SP & HHP
Karen Godwin - SH SP & HHP
SHOW MANAGER
Mary Condon
Email: MKCDanvers@aol.com
Phone 508-954-3073
SHOW MANAGER
Mary Goehring
Email: transcriptionplus@comcast.net
Phone 860-585-8026
VENDOR CONTACT
Michael Goehring
Email: michaelj22256@gmail.com
Phone 860-583-2818
No calls to the show committee after 9pm EST

ENTRY CLERK
Jan Beardsley-Blanco Email: catshow@tds.net
P.O. Box 574 New London, NH 03257 Phone/Fax 603-526-4688

ENTRY FEES
$67 First Entry (includes catalog)
$62 Second Entry (same owner)
$50 Third Entry (same owner)
4 Pack - $190 (same owner)
$25 Additional Entries (same owner)
$10 Agility Entries (if cat is entered in the show)
$15 Agility Entries (if cat is not entered in the show)
$20 Extra 1/2 Cage (double space)
$20 Sales Cage (1/2 cage w/paid entry only)
$35 Grooming Space (full space)
$10 End-of-Row Benching
$50 Returned Checks
CLOSING DATE
4/29/13 @ 8 pm or when the show fills at
the 225 cat entry limit, which ever is first
ENRTY INFO
All Entries must be submitted on an official
CFA entry form, sent online or faxed.
Payment MUST accompany mailed
entries; per show rule 4.07 all fees for
online and faxed entries must be paid
within 10 days or at check-in, whichever
comes first. Make checks payable to
Seacoast Cat Club. Exhibitor must
confirm all online and fax entries with
the Entry Clerk; the club will not be
responsible for entries lost due to
communication errors. Odd numbered
entries with ANY size security cage must
purchase an extra ˝ cage space. There
will be no refunds for failure to bench.





Please bring your "gently" used shoes and boots to donate to a local shelter
Show Hall: Everett Arena 15 Loudon Rd. Concord, NH 03301 608-228-2784. The show hall is handicap accessible and climate controlled by industrial fans. People food will be available.
Hours: Check-in time: 7:00-8:00 am Saturday. CATS MUST BE BENCHED BY 9:00 am SATURDAY. Judging begins at 9:30 am on Saturday and 8:30 am on Sunday. Advertised hours are 9:30 am – 4:30 pm on Saturday and 8:30 am – 3:30 pm on Sunday
CFA Show Rules: All CFA Show rules will be strictly enforced. Show rules are available online http://www.cfa.org/Portals/0/documents/forms/12-13showrules.pdf or by sending $7 to CFA 260 E. Main St. Alliance, OH 44601. All championship, premiership and kitten entries with registration numbers or temporary registration numbers will be scored for CFA National and Regional points. Owners of novices can contact the entry clerk for a temporary registration number.
Health: This is a non-vetted show. All cats/kittens/Household Pets must be free of fleas, fungus, ear mites and other disease; should be inoculated against feline panleukopenia, rhinotracheitis, calici viruses and rabies; should be tested negative for FeLV; and must have both front and back nails trimmed prior to benching. Declawed cats are not eligible for entry. The State of New Hampshire mandates current rabies inoculation for all cats and health certificates current within 10 days for cats/kittens being sold; it is advisable that you bring your cat's certificate(s). No kitten under the age of 4 months old is permitted in the show hall. Cats may not be confined in carriers. No cats may be left in the show hall overnight. Cages are approximately 22"x22"x22". Exhibitors are advised to bring cage drapes or covers for the top, sides and bottom of the cage. Litter will be available, please bring your own litter pan. If this is your first show let the entry clerk know, additional info can be found at www.cfanewbee.org
Show Hotel Info: Red Roof Inn Loudon 2 Staniels Rd. Loudon, NH 03307 Phone: 603-225-8399. Ask for Seacoast Cat Club (SCC) rate until April 21; Doubles $76.79, King w/ frig & microwave $79.19, includes cold continental breakfast. No pet fee. 6 miles from the show hall. Other hotel options are: LaQuinta Inn & Suites Manchester 21 Front St. Manchester, NH 03102 Ph: 603-669-5400 use CFA discount code CATFAN9 (about 17 miles from the show hall). Comfort Inn 242 Daniel Webster Hwy. Merrimack, NH 03054 Phone: 603-429-4600. Free airport shuttle. Club rate $69.99 until 4/29/13 (about 30 miles from the show hall). NOTE: Guests must sign damage waiver form, provide credit card &have room inspected prior to checkout. No hotel towels to be used for cats. Cats must be confined to bathroom or tented. Guests will be charged for any damage.



Show Flyer (PDF)
Directions
CFA Entry Form (PDF)
CFA Household Pet Info
All About Feline Agility




Back to