Saturday Show Judges
Walter Hutzler ~ AB/HHP
Gary Powell ~ AB/HHP/YFEP
Jan Stevens ~ AB/HHP
Anne Mathis ~ AB/HHP
Pam Bassett ~ AB/HHP
Jody Garrison ~ SP/HHP

Sunday Show Judges
Nancy Dodds ~ AB/HHP
Wayne Trevathan ~ AB/HHP
Wain Harding ~ AB/HHP
Douglas Myers ~ AB/HHP
Vicki Abelson ~ AB/HHP
Rhett Bockman ~ SP/HHP





















Entry Fees (Per Show)
1st Entry (including catalog) $52
2nd Entry (same owner) $45
3rd & Additional (same owner) $35
All Household Pet Entries $35
Misc, Prov, AOV Entry $20
Extra 1/2 Cage $15 (per show)
Grooming Space $30 (1 show)
Grooming Space $40 (both shows)
End of Row $15 (1 show)
End of Row $20 (both shows)
EOR waived for handicapped exhibitors

Show Manager
Kathryn Brady
kathryn@katsmith.net
917-969-9482
Show Manager
Melanie Dellasala
melkatzsimez@aol.com
561-779-8065
Show Secretary & Vendor Contact
Carol Fogarty
miamiflcats@yahoo.com
386-253-4367

Closing Date for Both Shows
January 27, 2014 @ 6pm or when show fills at the 225 Limit

Entry Clerk
Shirley Peet
meloncali@comcast.net
415 Shore Drive
Joppa, MD 21085
Phone: 410-679-1873
Fax: 410-679-1874
Please, no calls after 9:00 p.m. EST

Show Hall
Exhibit Hall @ The Lakeland Center
701 West Lime Street
Lakeland, FL 33815
Phone: 863-834-8100
People food will be available for sale.
No outside food is permitted to be
brought onto the facility.




Entry Info: Entry Info: All fees include $2 CFA surcharge. Full payment must accompany all mailed entries. Per Show Rule 11.08a all fax or online entries must be paid in full within 10 days of receipt or prior to the start of the show, whichever is first. There is a $5 Pay-at-the-Door Fee, per exhibitor which will be added to fees that are not paid in full before check-in. Properly completed entries must be submitted on an official CFA Entry form or facsimile, sent online, or faxed with all information. The use of the online entry form is interpreted as an official entry in this CFA show, and your email address on the form is considered to be your signature per CFA Show Rule 4.05. Make checks for both shows payable to Miami Florida Cat Fanciers. Send PayPal to meloncali@comcast.net please note which show the payment is for. PayPal payments must be made before closing. Returned check fee is $50. Email the Entry Clerk to confirm receipt of online/fax entries. Neither the Entry Clerk nor the club will be responsible for entries lost due to communication errors. It is the responsibility of each owner to enter and to verify that all information contained on the confirmation is correct. No substitutions may be made after the closing date. Use of Security cages with a single entry will require the purchase of an extra 1/2 cage. No refunds for failure to bench.
Check-In: Check-in Saturday will be 7:30-8:30am. Judging will begin at 9:00am both days. Advertised hours are from 10:00am-5:00pm.
Household Pets: HHPs must be 4 months or older. Entries over 8 months of age must be neutered/spayed and may NOT be declawed. Highest scoring male and female Household Pet will be crowned Mardi Paw King and Queen!
Youth Feline Education Program: YFEP will be judged on mid day on Saturday.
Hotel Info: There is no designated show hotel. LaQuinta Inn has 2 convenient locations, use CFA code CATFAN9 for discounts. La Quinta Inn & Suites Lakeland West 1024 Lakeland Park Center Dr. Lakeland, FL 33809 Ph: 863-859-2866.
La Quinta Inn & Suites Lakeland East 4315 Lakeland Park Dr. Lakeland, FL 33809 Ph: 863-815-0606.
Local Airports: Tampa International Airport (TPA); about 45 miles/50 minutes. Orlando International Airport (MCO); about 55 miles/60 minutes. Allow time extra time for traffic.
Supplies: Cages are approximately 22x22x24 (1/2 cage). Litter will be provided. Bring your own litter pans, dishes and cat food. Novice exhibitors should bring cage curtains and grooming supplies. Please bring your cat in a suitable carrier.
Awards: All championship, premiership and kitten entries with registration numbers or temporary registration numbers will be scored for CFA National and Regional points. Owners of novices can contact the entry clerk for a temporary registration number. Rosettes will be awarded; permanent flats will be used in accordance with CFA show rules.
Health & Sales: This is a non-vetted show. Cats are expected to be free from fleas, fungus, ear mites and all contagious diseases. All entries must be inoculated against feline distemper, feline rhinotracheitis, calici viruses, rabies and be tested negative for feline leukemia before entry to the show hall. All claws must be clipped prior to benching. Declawed cats and kittens are not eligible for entry. No kittens under four (4) months of age will be permitted in the show hall. All cats and kittens for sale must have valid Florida Health Certificates as required by Florida Law. The sponsoring club will not be responsible if this law is not followed. CFA Show Rules: This is a CFA licensed show and all show rules will be strictly enforced. Copies of these rules can be obtained at no cost online at www.cfa.org or send $7.00 to The Cat Fanciers Association, Inc. 260 E Main St Alliance OH 44601.
New Exhibitors: Visit www.cfanewbee.org to find all the information you need to enter and show your cat!
Liability: Miami Florida Cat Fanciers, Inc. will take reasonable care to safeguard entries and the property of exhibitors. Neither the club, it's members nor The Lakeland Center will be liable for any loss, damage or injury. Cats CANNOT be left in the show hall overnight. The sponsoring club reserves the right to add or substitute judges not named in show flyer should it become necessary.
Catalog Ads: Copy must be camera ready and received with payment by closing date. Please send to Entry Clerk. Rates: Full Page $60; Half Page $35; Quarter Page $25; Business Cards $10.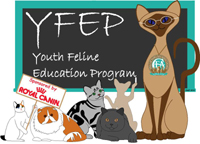 PDF Show Flyer
Link for Directions
Club Web Site
Back to