Entry Clerk
Judith Hudgens
bluegenesdevons@att.net
42258 Oakland Drive
Canton, MI 48188-5214
Phone/Fax 734-397-8028
No calls after 9pm EST
Closing Date
Tuesday February 23, 2013 or when
the show fills with 225 entries

Show Manager
Marci Baturin
Phone 847-426-3141
Show Manager/Vendor Contact
Renee Weinberger
dukecherry700@yahoo.com
Phone 847-856-9679
Vendor Contact
Jean Heyes
jeweltreeinc@sbcglobal.net

FREE Breed Booths This Year...
Let our large & enthusiastic gat "talk to" your animals
Breed booths will be located within the benching area = to one grooming space.
One booth per breed permitted. Space must be arranged in advance.
Contact: Teri Smith perrysmith@centurylink.net 574-586-2125

Welcome Back Special - 4 Entries (same owner) $160
FREE Double Cage Space (Extra 1/2 cage) with Third Entry

1st Entry $60
2nd Entry (same owner) $50
3rd + Entries (same owner) $40
First HHP Entry $50
2nd + HHP Entries (same owner) $40

Double Cage (extra 1/2) $25
Sales Cage (w/ entry) $25
Grooming Space $25 (as available)
End of Row $15 (waived for handicapped)
Returned Check Fee $50




General Show Info:catshowcoupon@comcast.net
Entry Info: All entries must be paid in full within 10 days of receipt or prior to start of the show, whichever is first. Make checks payable to Lincoln State Cat Club, Inc. No refunds once your entries has been received or for failure to bench.
Show Hall: Midwest Conference Center 401 W Lake St. (@ I-290) Northlake, IL 60164 Ph: 708-409-2828. 15,000 sq ft fully carpeted, no pillar facility. The facility is in front of/attached to Concorde Plaza. The show hall is air conditioned, heated, and handicap accessible, with an elevator on the upper level. No outside food is permitted.
Check In: 7:30 - 8:30 am Saturday. Show starts at 9 am both days. Show Hours: 9 am - 4:30 pm or until completion of judging both days.
Airport Info: O'Hare Airport is located 10 minutes from the show hall; Midway Airport is 15 miles from the show hall.
Hotel Info: There is no designated show hotel; here are numerous hotels in the Northlake area, including Elmhurst, Elk Grove & O'Hare. Here are a few suggestions. Red Roof Inn Chicago - Downers Grove 1113 Butterfield Rd. Downers Grove, IL 60515 PH: 630-963-4205. Use CFA discount code 526223. La Quinta Inn Chicago Oakbrook Terrace 1 South 666 Midwest Rd. Oakbrook Terrace, IL 60181 PH: 630-495-4600. Use CFA discount code CATFAN9. La Quinta Inn Chicago O'Hare Airport 1900 Oakton St. Elk Grove Village, IL 60007 PH: 847-439-6767. Use CFA discount code CATFAN9. Motel 6 Chicago West - Villa Park 10 W Roosevelt Rd. Villa Park, IL 60181 PH: 630- 941-9100. Use CFA discount code 542766.
Dining: There is an endless choice of dining - from fast food to a fine restaurants. Some places will be listed on our website club's web site and we'll have more info at the show.
General: All entries in Championship (except Novice), Premiership (except Novice), registered Kittens, recorded Household Pets, and registered cats competing as Household Pets with an Household Pet color class prefix will be scored for CFA awards. Owners of novices can contact the entry clerk for a temporary registration number. Kittens may be entered without registration numbers, but will not be scored for CFA awards if a number is not provided at show time. Kittens without a registration number or TRN will not be included in the count.
Health This is a non-vetted show. It is strongly advised that all cats or kittens entered or present in the show hall be inoculated before entry by a licensed veterinarian against feline panleukopenia (formerly known as feline distemper or feline infectious enteritis), feline rhinotracheitis, Calicivirus and rabies. It is also strongly recommended that cats and kittens be tested and found negative for FeLV before entry. All cats/kittens must have all claws clipped prior to benching. Declawed cats are not eligible for competition.
Litter will be provided. Please bring litter pans, food/water dishes and cat food. Single cage size is 21" x 21" x 21".
Liability: Lincoln State Cat Club, Inc. will take reasonable care to safeguard the property of exhibitors. Neither the club; its members, CFA; nor Harper College will be liable for any loss or damage.
Household Pets: HHPs will be judged in 8 rings. HHPs 8 months and over MUST BE NEUTERED OR SPAYED. The Show Committee may require proof of altering. Altered HHP kittens (4 through 7 months) as well as unaltered HHP kittens may be shown in accordance with CFA show rules. Declawed cats cannot be shown in conformation classes per CFA show rules.
New Exhibitors: Please let the entry clerk know you are new to showing. Bring a towel or rug for the cage floor and material for the sides and top, with clips to fasten the material. You will also want to bring a small water bowl; food dish; food and litter pan. Litter will be provided. Additional info is available at CFA NewBee Program web site.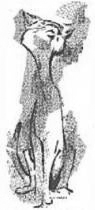 Show Flyer (PDF)
Link for Directions
Club Web Site