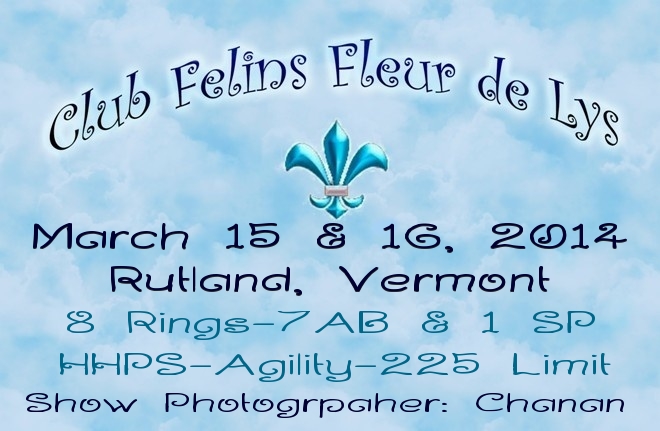 Saturday Judges
Jan Stevens, Allbreed
Wayne Trevathan, Allbreed
Russell Webb, Allbreed
Lorraine Rivard, Specialty

Sunday Judges
Kathy Calhoun, Allbreed
Chuck Gradowski, Allbreed
Tracy Petty, Allbreed
Sharon Roy, Allbreed
Entry Clerk
Shirley Peet
meloncali@comcast.net
415 Shore Drive
Joppa, MD 21085
Phone: 410-679-1873 Fax: 410-679-1874

Show Manager
Robin Poirier
Email fenwayblue@hotmail.com
Show Manager & Vendor Contact
Pierre Rivard
Email rivapier@cgocable.ca

FREE Extra 1/2 cage with 3, 5 or 7 entries

First Entry $54
Second Entry $48
Third Entry $42
Forth & Each additional Entry $38

Extra 1/2 or Sales Cage $25
Grooming Space $35
End of Row $15 (waived for handicapped)
Returned Check Fee $50

Agility Entry Fee $10 if cat/kitten is entered in the show
Agility Entry Fee $15 if cat/kitten is NOT entered in the show



Closing Date: Tuesday March 11, 2014 or when the 225 entry limit has been reached.
Entry Info: All entries (mail, online, fax) must be paid in full within 10 days of receipt or prior to start of the show, whichever is first. Make checks payable to Club Felines Fleur de Lys. Entry fees paid at the door MUST BE IN CASH No refunds for failure to bench.
Show Hotel: Holiday Inn Rutland-Killington 476 Holiday Dr. Rutland, VT 05701 Ph: 802-775-1911. Rate $89.00 single or double, $110.00 triple and $129 quad per night including a full American buffet breakfast. Special rates are available until February 28, 2014; use code "CAT". All rooms are subject to a 10% Vermont and meal taxes as well. There will be a $50 deposit refundable depending on condition of room at checkout. Alternate Hotel Days Inn Rutland-Killington 401 US Route 7-South Rutland, VT 05701 (this use to be the Red Roof Inn).
Show Hall: The show hall is College of Saint Joseph (Athletic Building) 71 Clement Road Rutland, VT 05701-3899 PH: 802-773-5900. The show how is heated and handicap accessible. No smoking will be allowed in the show hall.
Starting Times: Check in at 7:30 to 8:30 a.m. On Saturday. Judging will begin promptly at 9 a.m. On Saturday and 8:30 a.m. On Sunday. Advertised show hours 9 a.m. To 4 p.m. both days. No cats are permitted to leave the show Hall during the posted show hours without the permission of show management.
Benching Info: Single cages will be 22" x 22" x 22". Please bring cage curtains, fabric or towels for the top, sides and bottom of your benching cage. Use of a security cage with a single entry requires the purchase of space for two single cages. Litter will be provided. Please bring your own food bowls, water bowls, food and litter pans.
Awards: This is a CFA licensed show. Rosette and ribbons will be awarded in accordance with CFA show rules. Permanent ribbons will be used for color classes. All championship, Premiership and kitten entries with registration numbers or temporary registration numbers will be scored for CFA national and regional points. Owners of novices can contact the entry clerk for a temporary registration number.
CFA Show Rules: A copy of the current CFA show rules may be obtained by sending $7 to the Cat Fanciers Association 260 East Main St. Alliance, OH 44601 or online at CFA.org
Health & Sales this is a non-vented show. Cats must be free of fleas, fungus and infectious diseases. Cats showing any signs of illness or fleas will be asked to leave the show hall immediately. Cats should be vaccinated against feline enteritis, rhinotracheitis & calici, & tested for FeLV prior to entry. Vermont State law requires proof of rabies vaccination (bring certificates). Front & back claws must be clipped, no declawed entries allowed. No kittens under four (4) months of age will be permitted in the show hall. No cats/kittens to be left in the show hall overnight. Sale kittens may not be housed in crates under the cages during the show. All sale cats/kittens must have required cage space according to CFA rules. Health & Rabies certificates required for sale cats/ kittens (within 10 days). Sales Cage only with entry.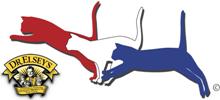 Show Flyer (PDF)
Link for Directions
Back to