Spectators Click Here for Additional Info and $1 OFF COUPONS


Present
A CFA Allbreed Cat Show
Sunday, November 9, 2008 - Hudson, MA

5 AB & 1 SP Rings ~ 225 Cats ~ Household Pets



Top Cat Awards presented by MSPCA to
Pedigreed cat and HHP with the most votes!




Judges:
Kim Everett-Hirsch (AB)
Sheila Mizzi (AB)
Vicki Abelson (AB)
Annette Wilson (AB)
Loretta Baugh (AB)
Iris Tanner (SP)

Show Managers:
Lynn Jordan
tonks@comcast.net
978-779-2969
Pam Morrison
chantallecats@aol.com
Phone: 978-453-3685
Entry Clerk:
Jan Beardsley-Blanco
catshow@tds.net
P.O. Box 574 New London, NH 03257
Phone: 603-526-4688
(no calls after 9 p.m. please)
CLOSING DATE is Monday November 3, 2008 or upon receipt of 225 entries.
Show Secretary:
Melinda Webster
mloof@aol.com
Phone: 781-259-1416
Entry Fees:
First Entry (includes catalog) $49
2nd Entry/ (same owner) $44
Additional Entries (same owner) $39
HHP Entries $35 Double/Sales Cage $25 (22X22X22)**
Groom Space $30 (no cage)**
End of Row $20 (limited)
Substitution Fee $15
Returned Check Fee $30
**Will be available on a limit basis. PAID entries will have priority.





Entries: All entries must be printed legibly or typed on an official CFA entry blank. Proper fees (Canadian entries must be in the form of a US Money Order or a bank draft drawn on a US Bank) MUST accompany all entries. Checks are to be made payable to "Cats Plain & Fancy". Payments for online entries must be received within 10 days according to show rules. All confirmations will be sent via email, unless requested otherwise. One agent or bench request per exhibitor (must be made at time of entry). Entry clerk will call collect if she has a question. ALL FUNDS NONREFUNDABLE. If this is your first show, please contact the entry clerk for assistance, if needed.

Benching: Only benched cats/kittens will be allowed in the show hall. No Cats or Kittens will be confined to carriers either displayed or under cages. No kittens under the age of 4 months will be allowed in the show hall. No cats are allowed in the show hall overnight.

Show Hall: Riverview at the Hudson Portuguese Club, 13 Port St, Hudson, MA 07149, 978-567-1929. The facility is handicapped accessible and heated/air conditioned. NO SMOKING will be allowed in the show hall. Please note: No food may be brought on site (except grand cakes & cat food). Great options will be available at the concession stand or take-out restaurant.

Hours: Check-in is 7:30 AM–8:30 AM, Cats must be benched by 8:30 AM. Judging begins at 9:00 AM. Advertised Sunday hours: 9:00 AM–4:00 PM.

Catalog Advertising: $50 – Full Pg; $35 – Half Pg; $20 – Quarter Pg; $10 – Business Card All ads must be camera ready and send to the Entry Clerk by November 3, 2008.

Show Hotel: Red Roof Inn Boston Southborough, 367 Turnpike Road Southborough, MA 01772 (I-495 at SR 9, Exit #23-A) 508-481-3904. Use CP526223 in the Corporate Plus field when making a reservation to receive the CFA discount.

CFA/Misc. Information: All championship, premiership and registered kittens will be scored for CFA Regional and National Wins. Registration numbers must be printed in the official catalog for all cats entered in Championship, Premiership and AOVs or handwritten in ink for kittens. Exhibitions cats by invitation only. CFA show rules will be strictly enforced. For a copy, contact The Cat Fanciers Association, Inc., 1805 Atlantic Avenue, P.O. Box 1005, Manasquan, NJ 08736-1005. This is a non-vetted show. Cats should be free of fleas, fungus, ear mites and infectious disease. Exhibitors are advised to have their cats vaccinated against Enteritis, Rhinotracheitis and Calici Virus. Test negative for FeLV and FIV prior to entry. Commonwealth of MA requires all cats traveling into the state to have a current rabies certificate. All claws must be clipped front and back. No declawed cats may be entered. We reserve the right to change judges as necessary. Litter is provided, please bring your own litter pan and cat food. Show management is not liable for loss, damage or injury to cat, person or property at show.




PDF Show Flyer
Link for Directions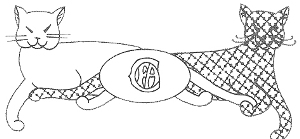 Back to