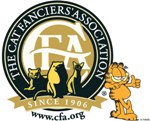 Our show this year will be an ten ring format with 6 rings on Saturday
& 4 rings on Sunday, having a 225 entry limit!!!! So enter early!!!

This is going to be a fun show with special rosettes for
Best Cat, Kitten, Premier & Household Pet!!
Saturday
Ring 1
Darrell Newkirk AB Sunday
Ring 7
Annette Wilson SP

Saturday
Ring 2
Chuck Gradowski AB
Sunday
Ring 8
Brian Pearson SP

Saturday
Ring 3
Rick Hoskinson AB Sunday
Ring 9
Norm Auspitz AB

Saturday
Ring 4
Ellyn Honey AB
Sunday
Ring 10
Gary Powell AB

Saturday
Ring 5
Cathy Dinesen AB

Saturday
Ring 6
Jim Dinesen SP
Exhibitor Lunches will be available for $6.00 on both days. Saturday lunch will consist of 2 pieces of
chicken, 2 sides, a roll and pop or water. Sunday the main dish will be pasta & a side salad. Please
let the entry clerk know how many lunches, for each day, you plan to purchase. Pay at the Show!
SPECIAL FEES
EARLY BIRD: $5 1st, 2nd & 3rd ENTRY (must be paid in full by March 12, 2013)
FREE EXTRA OPENING WITH 3 ENTRIES!!

Entry Fees:
1st Entry: $67 including catalog
2nd Entry: $57 (same owner)
3rd Entry: $47 (same owner)
4th & Additional Entries: $27 (same owner)
Miscellaneous & AOV Entries: $35
Extra 1/2 Cage: $25 (limit 1 per entry)
Grooming Space: $35 (extremely limited)
End-of-Row: $15
NSF/Unpaid Entry: $50
Household Pet Entry Fees are the same
as above, including early bird rates.

Show Manager:
Ralph Strzalkowski
Strazkatz@att.net
Ph: 847-588-0042
Show Manager:
Paul Patton
luvlypurr@comcast.net
Ph: 773-587-2140
Vendor Contact:
Ralph & Sue Strzalkowski
Strazkatz@att.net
Ph: 847-588-0042

Entry Clerk:
Monte Phillips Email: jouvencebleu1@gmail.com Ph: 630-936-7161
26 Waynewood Dr. West Chicago, IL 60185 Waive signature on overnight mail!!
Closing Date:
March 19, 2913 or when show fills with 225 entries



Show Hall: DuPage County Fairgrounds 2015 W. Machester Rd. Wheaton, IL 60187 Buildings 2 & 3 Ph: 630-669-6636. The show hall will be heated as necessary. All facilities in the show hall are handicapped accessible. End of Row fees will be waived for the handicapped exhibitors if mentioned on the entry form. Smoking is prohibited in the entire building. Fairground Amenities: Free Parking, ATMs, camping amenities.
Exhibitor Check-in: 8:30-9:30 a.m. Show Hours: Sat - 10:00-6:00 & Sun - 9:00-finals
Entry Info: FAX entries will NOT be accepted this year. Credit cards of any kind will NOT be accepted for payment this year. Sorry for the inconvenience. Exhibitors with security cages MUST pay for the double cage space and are requested to indicate their use on their entry form. Extra 1/2 cages are limited to ONE extra opening for each of your entries. Grooming Space are EXTREMELY limited and may NOT be available due to entry.
Benching Cage Size: Individual entries will be provided a 22"x22"x22" benching cage.
Show Hotel: LaQuinta Inn Chicago Oakbrook Terrace 1 S. 666 Midwest Rd, Oakbrook Terrace, IL 60181-4429 Phone: 630-495-4600. Use CFA discount CATFAN9. Additional Hotel: Red Roof Inn Chicago-Naperville 1698 Diehl Rd. Naperville, IL 60563, phone: 630-369-2500 or 800-REDROOF. Use CFA discount code 526223.
Airport Info: Chicago O'Hare (ORD) is about 45 minutes from the show hall. Chicago Midway (MDW) is about 50 minutes from the show hall.
Exhibitor Transportation: This is a small club with limited capabilities. Exhibitor transportation to or from hotels and/or airport will NOT be provided.
Inoculations/Test: It is strongly advised that all cats or kittens entered or present in the show hall be inoculated before entry by a licensed veterinarian against feline panleukopenia (formerly known as feline distemper or feline infectious enteritis), feline rhinotracheitis, calici viruses and rabies. It is also strongly recommended that cats and kittens be tested and found negative for FeLV before entry.
Claws: All claws of all entries must be clipped prior to benching.
Scoring: All championship, premiership and kitten entries with registration numbers or temporary registration numbers will be scored for CFA National and Regional points. Owners of novices can contact the entry clerk for a temporary registration number.



PDF Show Flyer
Official CFA Entry Form
Link for Directions


Back to