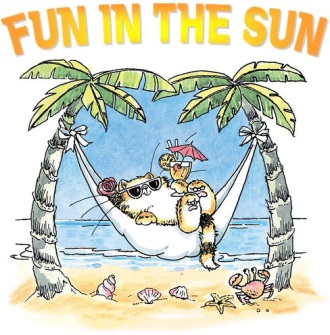 Our Sunny Saturday Judges
Liz Watson - AB/HHP
Sharon Roy - AB/HHP
Darrell Newkirk - AB/HHP
John Webster - AB/HHP
Iris Zinck - AB/HHP
Russell Webb - AB/HHP

Our Sunny Sunday Judges
Don Williams - AB/HHP
Bob Goltzer - AB/HHP
Jody Garrison - AB/HHP
Barbara Sumner - AB/HHP
Carol Fogarty - AB/HHP
Hope Gonano - AB/HHP
OUR SUNNY SHOW SPECIALS
All Exhibitors get a FREE 1/2 Cage with 3, 5 or 7 Entries
All HHP Entries $40 & 1 FREE • 1/2 cage with single HHP entry
Provisional Entry gets FREE 1/2 cage with single entry

ENTRY FEES
Fees are per show unless indicated
First Entry (includes catalog) $52
Second Entry (same owner) $47
Third Entry (same owner) $40
Each Additional Entry (same owner) $32
Double Cage $20 (1 show)
Double Cage $30 (both shows)
Groom Space $25 (1 show)
Groom Space $40 (both shows)
End of Row * $15 (1 show)
End of Row * $20 (both shows)
*no charge for handicap exhibitors
Substitutions $10
Returned Checks $50
Pay at the Door Fee $5 (per exhibitor)
All fees include $2 CFA surcharge

ENTRY CLERK
Shirley Peet
Email: meloncali@comcast.net
415 Shore Dr. Joppa, MD 21085
Phone: 410-679-1873 Fax 410-679-1874
SHOW MANAGER
Karen Lane
Email: karenllane@comcast.net
Phone: 561-272-4224 or 561-274-1911
VENDOR CONTACT
Dave Boyce
Email: cb0164@att.com
Phone: 954-398-1060
SHOW SECRETARY
Yvonne Griffin
Email: lygriff1@aol.com
Phone: 407-677-9690

CLOSING DATE
6pm Monday January 13, 2014 Or when shows fill @ 225 cats





Entries: NO Additional Fees for Online/Fax Entries. It is the responsibility of each exhibitor to enter and to verify that all information contained on the confirmation is correct. Confirm all online/fax entries by email with the Entry Clerk; neither the Entry Clerk nor the club will be responsible for entries lost due to communication errors. Full payment must accompany all mailed entries. Per Show Rule 11.08a all fax or online entries must be paid in full within 10 days of receipt or prior to the start of the show, whichever is first. Make checks payable to Cat Club of the Palm Beaches. Send PayPal payments BEFORE CLOSING DATE to meloncali@comcast.net please note which show the payment is for. The Pay-at-the-Door Fee will be waived if paid in full before check-in. Use of Security cages with an odd number of entries will require the purchase of an extra 1/2 cage. No substitutions after closing date. No refunds will be given for failure to bench.
Show Hall: Nova Community Center 440 North Nova Rd. Ormond Beach, FL 32174 Phone: 386-676-3252. The show hall is air-conditioned and/or heated as needed and is handicapped accessible. Smoking is not permitted where cats are benched or judged. No cats or kittens may be left in the show hall overnight.
Benching: Check-in time will be from 7:30 am until 8:30 am, Saturday and 8:00 am to 8:30 am for Sunday only exhibitors. Judging will begin at 9:00 am promptly each day. Advertised show hours are 9:00 am until 4:00 pm. No cats will be permitted to leave the show hall before the posted show hours without the permission of show management. Single cages will be 22" x 22" x 22". Please bring cage curtains, fabric or towels for the top, sides and bottom of your benching cage. Use of a security cage requires the purchase of space for two single cages. Litter will be provided. Please bring your own food bowls, water bowls, food and litter pans.
Show Hotel: Baymont Inn and Suites-Ormond Beach 175 Interchange Blvd. Ormond Beach, FL 32174 Phone: 386-672-3675. Group rate $79.99/night double room plus tax - free hot breakfast and NO PET FEE! Code: CATS, rooms will not be held after 12/21/2012. Reservations need to be called in on an individual basis. The hotel is less than 4 miles from the show hall and close to restaurants and gas stations.
Local Airports: Daytona Beach International Airport (DAB) is about 8 miles; both Delta and US Air fly into DAB. Orlando International Airport (MCO) is about 75 miles.
CFA Show Rules: A copy of the current CFA show rules may be obtained by sending $7 to: Cat Fancier's Association, Inc. 260 East main St. Alliance, OH 44601 or online at www.cfa.org
Awards: This is a CFA licensed show. Rosettes and ribbons will be awarded in accordance with CFA Show Rules. Permanent ribbons will be used for color classes. All Championship, Premiership and registered Kitten entries will be scored for CFA National and Regional awards.
Health & Sales: It is strongly advised that all cats or kittens entered or present in the show hall be inoculated before entry by a licensed veterinarian against feline panleukopenia (formerly known as feline distemper or feline infectious enteritis), feline rhinotracheitis, calici viruses and rabies. It is also strongly recommended that cats and kittens be tested and found negative for FeLV before entry. All claws of all entries must be clipped prior to benching. No kittens under four (4) months of age will be permitted in the show hall. All cats and kittens for sale must have valid Florida Health Certificates as required by Florida Law. The sponsoring club will not be responsible if this law is not followed.
Liability: The sponsoring clubs reserve the right to add and/or substitute judges not named in the show flyer should it become necessary. The sponsoring clubs will take reasonable care of all cats and personal property, but will not be held liable for loss of property, damage, or accidents to cats or exhibitors.
Catalog Ads: Business card ads- $10.00; quarter page as- $25.00; half page ad –$40.00; full page - $70.00; inside cover - $120.00.



Show Flyer (PDF)
Link for Directions
CFA Entry Form (PDF)
Back to