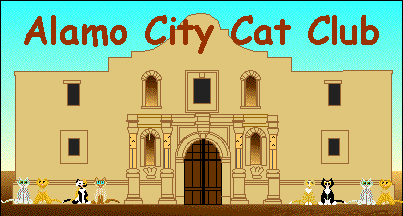 Presents HOMECOMING
October 21 & 22, 2006
Live Oak Civic Center
8101 Pat Booker Road
Live Oak, TX 78233
Saturday Judges:
Walter Hutzler AB
Carolyn Owen AB
Jan Rogers SP
Marge Collier SP

Sunday Judges:
Norma Placchi AB
Bob Zenda AB
Carla Bizzell SP
Kathy Black AB
225 Cats ~ Household Pets ~ Junior Showmanship
NO CALLS AFTER 9:00 PM CST, PLEASE
Entry Fees:
1st Entry $48.00 (includes catalog)
2nd Entry $43.00
3rd & Subsequent Entries $38.00
Junior Showmanship $5
Household Pets $25
Extra 1/2 cage $15
Double Sales Cage $25
Groom Space $20
End of row $10 (no additional charge for handicapped)
Substitutions $5
Returned Checks $25
FREE 1/2 cage with every third entry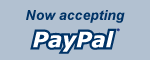 Send your payments to Peggy Shulman at enteronline@verizon.net. Please put Alamo City Cat Club in the Email Subject field and your full name in the Note field. Also, please note this on the online entry form.
There is no refund and monies are due for failure to bench.
Show Check In Hours: Saturday 7:00AM - 8:30AM Judging: 9:00AM - 5:00PM both days


Show Hotels: Drury Inn 8300 IH 35 North San Antonio, TX 210-654-1144 Room rate $62.99 plus tax Cut off date 10-6-06 La Quinta IH 35 @ Toepperwein Rd. San Antonio, TX 210-657-5500 Double $71.10, King $76.50 plus tax cut-off date 10-2-06


Show Facilities: Live Oak Civic Center 8101 Pat Booker Road, Live Oak, TX 78233 210-653-9494 or 888-443-5622 (toll free) Located at the intersection of IH-35 and Loop 1604, less than 20 minutes from the downtown area and 12 minutes away from the International Airport,


NO OUTSIDE FOOD ALLOWED IN THE SHOW HALL
New exhibitors: please contact Amy Haden amyhaden@yahoo.com or call 830-388-0047 if you have any questions or need additional information.


Rules: This show is licensed by the Cat Fancier's Association, Inc. (CFA), and its show rules will be strictly enforced. All entries must be registered with CFA. A copy of these rules may be obtained by sending $5.00 to CFA, PO Box 1005, Manasquan, NJ 08736-1005.
No kittens under 4 months will be allowed in the show hall.
This is a non-vetted show. All cats must be free from parasites, fungus, and contagious diseases. The Show Committee reserves the right to remove any cat or kitten from the show hall if suspected of having any of the above diseases until examined by a veterinarian at the owner or agentís expense. All championship, Premiership, and registered Kitten entries will be scored for CFA National and Regional Awards. Ribbons and Rosettes will be awarded according to CFA rules.


Kitten Sales: You must purchase a sales cage in order to sell kittens or adults at this show. One adult or two kittens per 1/2 cage space. Proof of age may be required for very small kittens. No cat/kitten may be sold for less than $100. 00


General Info: Cages are approx 21" X 21" X 21" (Single) or 21" X 21" X 45" (Double) Cage size may vary. Security cages MUST purchase double cage spaces.


Litter will be provided. Bring your own litter pans, food dishes and cage curtains.


Reasonable care will be taken of all cats and personal property; however, neither Alamo City Cat Club, nor Live Oak Civic Center will be liable for items lost, damaged, or stolen. Check your entries carefully as all questions regarding entries will be called collect.


Extras: We plan to have a great raffle and a book sale. Any donations for the raffle are welcome and needed, please contact Amy Haden amyhaden@yahoo.com or call 830-388-0047 if you can help.



Club's Enter Form (PDF)

CFA Entry Form (PDF)

PDF Show Flyer

Directions


Back to